Features Which Affect Laminate Flooring Cost
Perhaps the time to replace the old floors home has come. Here is a few reasons why consider laminate flooring for your renovation. Laminate flooring cost is fairly low, the installation is quite uncomplicated, the maintenance is easy and material itself is very durable. Laminate flooring is an excellent value for your money. It remains one of the main choices when flooring your apartment is being thought of since the laminate flooring cost is very affordable.
The laminate which is used in modern times has the appearance and even to some extent the texture of hardwood or even natural stone. You get this feel especially when you use laminate floors of a very high quality. The laminate flooring cost of purchase and installation, however, is much lower than the cost of the other flooring options which it's imitating. So let's take a look at how much it would cost to install laminate floors in your home. What are you paying for?
When you search for laminate flooring in Vancouver, you end up paying for the number of square feet, laminate quality which you have chosen, the laminate brand you desire.
Laminate AC Rating
The quality of the laminate is usually measured by what is known as "AC rating" (i.e. abrasion resistance) which varies from AC1 to AC5, and a higher the score means a greater quality. When you choose a laminate of higher AC rating, then it would have a higher price. Be sure to pick the best AC rating to get the best laminate flooring.
Laminate Dimensions
If you check around, cheap laminate flooring prices start from $1/ square foot; this is measured around 1/8 inch thick and has a very thin upper wear layer. This kind of laminate may not be recommended in a high traffic area because it will be degraded faster than the other options.
Laminate flooring prices of medium quality may typically go between $2 and $4 per square foot. It has a thicker layer on the top and a total of about 3/8 inches thick, (10mm to 12mm).
Also, laminates of high quality may cost between $3 to $5 for every square foot. It has the thickest layer on top and a total thickness of about 1/2-inch (12mm to 14mm).
Laminate flooring also comes in various width, starting from 5 inch and wider, with 7.5" being the most popular at the moment.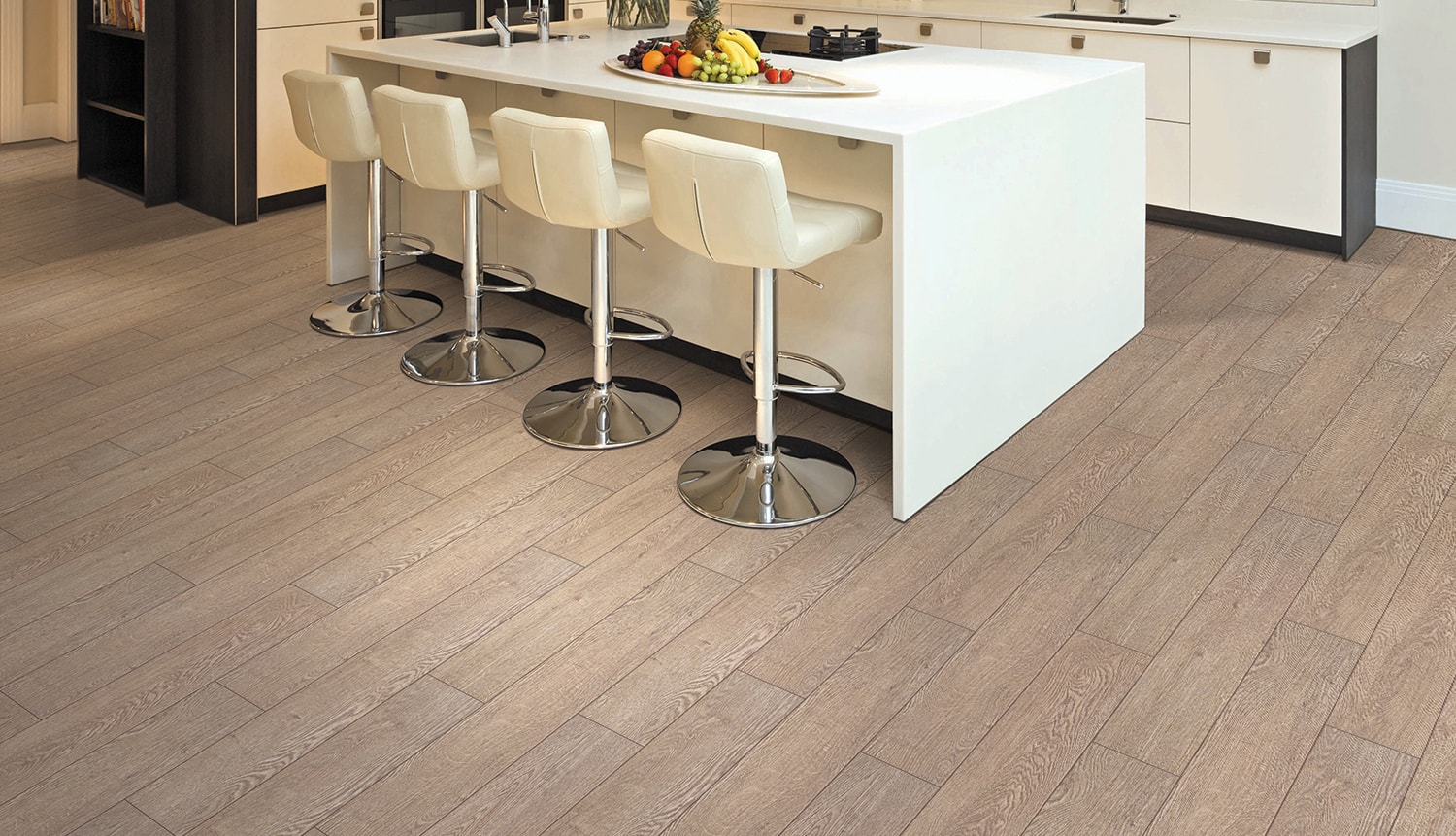 Manufacturer (Asian Or European Laminate)
Another factor affecting the price of laminate is where it is manufactured. One of the reasons why China (or Asia) has the cheapest prices for laminate flooring is simply because of cheap labour rates. For this reason, if you compare the prices of laminate floor manufactured in China to products made in Europe, there might be a big discrepancy. However, European products are known to be of the highest quality since standards are never compromised and in most cases european laminate has a number of well-known in the industry certifications, such as FloorScore, A+ VOC rating, EPLF quality certification and other.
Laminate Brand
Having known how much laminate is required for your project, next step is to start looking at the different brands that exist which would give you the best laminate flooring. Of course, the quality and brand chosen will have an influence on the final cost. Each of the brands usually has several levels of quality. The higher the quality of the product, the higher the cost of the laminate. Some brands offer cheap laminate flooring, others are quite expensive. There are quite a number of laminate flooring Vancouver brands to choose from. Some laminate flooring brands include a barrier for vapor or a fixed layer at the bottom layer.
Laminate Flooring Underlay
Besides the cost of labour for installing laminate flooring, laminate flooring underlay would be another material that you will certainly need to install a new laminate floor. Laminate flooring underlayment has various features as well, and must meet the requirements of the building/Strata. At BC Floors, we will include everything you need into an Estimate, laminate and underlay supply for your project and labour cost for the given scope of work.