Expert Floor Leveling & Demolition
BC Floors is your expert team with experience in self-levelling & floor demolition
To replace existing flooring for any renovation project, you need to remove the existing floor coverings from your home. Whether you are pulling up some old hardwood floors or need tile or carpet removed and disposed of, BC Floors is the team you need. Working efficiently and with a minimum of inconvenience and mess, the professionals at BC Floors will have your old flooring demolished and disposed of in no time.
We use the proper equipment to efficiently remove the old floors. For hardwood removal, our machinery efficiently demolishes the hardwood and removes all adhesive from the substrate, leaving a ready surface for the new flooring to be installed.
For carpet removal, BC Floors does the heavy lifting for you by pulling up the carpet, underpadding, staples and adhesives, leaving the surface smooth and flawless for the new flooring to be laid.
Tile removal can be a very messy and tedious job; that's why it's best left in the hands of a professional demolition team like BCFloors. Tile removal requires special equipment. We can remove the tile from your floors for you with a minimum of mess, taking with us the old flooring and ensuring the remaining surface is clean and prepared for the new flooring to go in whenever you are.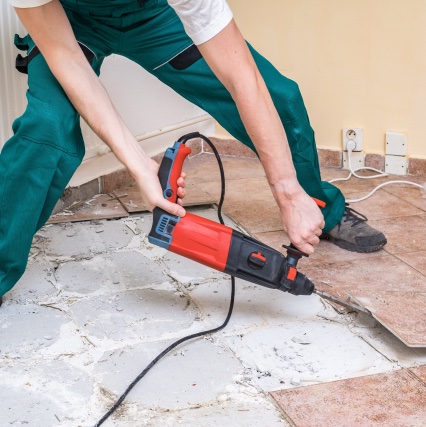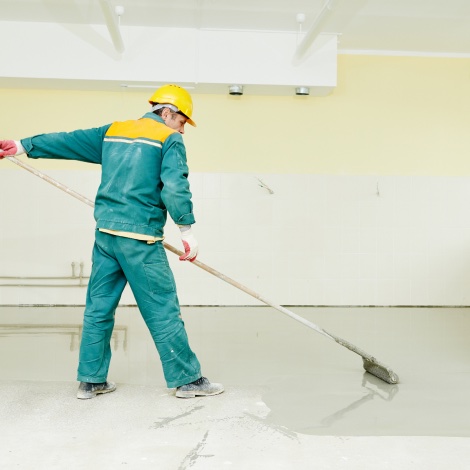 Self-Levelling and Subfloor Preparations
BC Floors is your expert team with experience in self-levelling products and equipment to ensure the surface of your floors is appropriately prepared for the new flooring to be installed. Making use of self leveling equipment to help level flooring and lasers to identify areas in need of improvements, we are able to level your raw or finished floors for proper flooring installation to occur.
BC Floors applies a self-leveling compound that includes a rapid curing rate to create an efficient timeline in prepping subfloors for new flooring to be installed. We use a wide variety of methods to treat different flooring problems. These processes make sure all grooves and bumps are removed from the surface of your substrate floor.
Once the subfloor has undergone the self leveling process, we can then grind the floors to ensure evenness. Grinding is done on all concrete surfaces for evenness in preparation for the floor install.
For subfloors that does not require self leveling, we skim coat and grind the floors to ensure smoothness and prepare the floors for installation.
Our quality and consistent workmanship have helped thousands of homeowners
achieve the perfect flooring solution for their homes.
"We had BC Floors replace the carpet on our stairs with laminate and risers. They did a wonderful job on the work, were very considerate and cheerful while doing the work, and left our house in garage (where they did most of the cutting) nearly as clean as when they arrived. Would definitely recommend to anyone looking for this service."
"Contacted BC floors for a quote to change older tile floors and Keit came to our home to show us multiple samples, take measurements, and provide a detailed quote for the work of removing the existing tile , leveling the floor, and installing a new floor. Keit did an outstanding job of explaining everything involved with our choice of cork floors. The job was started within a week and the installer , Emerson, was fast, meticulous and we were extremely pleased with the look of the completed floor. Superb job!"
How to Get New
Floors for Your Place
Book a FREE On-Site
Estimation For Your Project
* Free Consultation and Estimate provided Unconditional. No Commitment.