Find out what makes us a Vancouver's top trusted flooring store
BC Floors®: Vancouver Flooring Contractors & Floor Installers
Scratches, Dents, Water stains, general Wear and Tear, Dullness – these are definite signs that your existing floors need some professional attention and care. Hardwood Floor Refinishing is the best option that will save your money and bring your wood floors back to like-new condition without replacing. Your hardwood floors certainly deserve another chance. BC FLOORS provides all types of Wood Floor Refinishing services. Based on the condition of your floors and your preferences, you can choose between dustless wood refinishing that involves sanding, sandless hardwood floor refinishing or buffing and screening, and hardwood recoating or wood floor cleaning. Refinishing hardwood floors also gives you an option to change the colour of your existing floors basically creating the whole new look. All our services are insured and covered with a warranty. We can completely restore your old parquet, solid or engineered hardwood floors.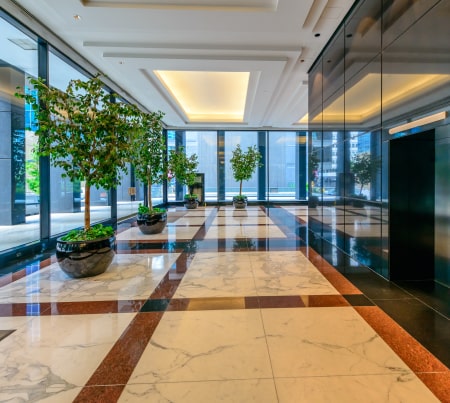 All-in-One Flooring Services
If you are planning a flooring project, there is no need to shop around the whole city for flooring materials first and then look for a reputable flooring installation company. We are a one-stop shop and are able to do any type of flooring work in Vancouver. We supply all types of floors of different brands: hardwood floor, laminate, carpet, vinyl and tile. We offer various flooring and related additional services: old floor removal and disposal, sub floor leveling and fixing, hardwood resanding and refinishing, baseboards and moulding installation and more. With BC Floors you get one company to deal with on all your flooring matters.

Leading Installation Experience
Getting some quality flooring materials does not guarantee excellent outcome of your project. It takes both quality materials and experienced installers to succeed. Before establishing BC FLOORS, the co-founders of the company were working in the flooring industry as installers for almost 10 years in some largest companies, such as BC Hardwood, Jordans, and others. Every member of our team has at least 5 years of hands-on experience. So you know you are dealing with the real experts. Moreover, we carry only those flooring materials that have proven their high level of performance over the years. And their quality and long life usage are guaranteed by manufacturers.

Variety of Flooring in Stock
We carry wide range of flooring materials (different brands, species, finish, colours) – solid hardwood, engineered hardwood, laminate, carpet, VCT tile and vinyl and more. Such a wide variety allows us to find the right flooring solution for any project and meet any specific requirements. We have the majority of our the most popular flooring materials in stock which means there is no waiting time. Choose your flooring and have it delivered right to your door.

Dedicated Project Management
What is the best way to eliminate the chances of miscommunication and ineffective cooperation in any project? Our answer is a well-thought-out project plan and one person in charge, project manager. You project starts with meeting your personal project manager who plans out every aspect of the project together with you and in accordance with your preferences and then controls its implementation. You are more than welcome to address your questions and concerns to your project manager at any time.

We certainly want your floors to look great, but what we care about as well is your healthy home environment. Did you know that any type of flooring impacts your home atmosphere, air quality and condition, in a good or in a bad way. Some flooring materials of poor quality can massively emit chemicals (for example, phthalates) that you breath in for a long period of time.
Taking into consideration that every home and project is very individual, we are more than happy to offer custom work services to our clients, both residential and commercial. We basically do any type of work related to flooring and wood, including various installation methods (classic, double glue down, Chevron and Herringbone patterns) and flooring options (hardwood installation on walls and window sills, custom floor installation on inlays, wood borders and medallions, custom made stair nosings and other). Our meticulous and client-oriented approach has always been the key to all our successful projects.
Our quality and consistent workmanship have helped thousands of homeowners
achieve the perfect flooring solution for their homes.
"We had BC Floors replace the carpet on our stairs with laminate and risers. They did a wonderful job on the work, were very considerate and cheerful while doing the work, and left our house in garage (where they did most of the cutting) nearly as clean as when they arrived. Would definitely recommend to anyone looking for this service."
"Contacted BC floors for a quote to change older tile floors and Keit came to our home to show us multiple samples, take measurements, and provide a detailed quote for the work of removing the existing tile , leveling the floor, and installing a new floor. Keit did an outstanding job of explaining everything involved with our choice of cork floors. The job was started within a week and the installer , Emerson, was fast, meticulous and we were extremely pleased with the look of the completed floor. Superb job!"
How to Get New
Floors for Your Place
Book a FREE On-Site
Estimation For Your Project
* Free Consultation and Estimate provided Unconditional. No Commitment.