Your Trusted Commercial Flooring Contractor
Vancouver Commercial
Flooring Company
BC FLOORS Flooring Company is your trusted commercial flooring contractor. We carry a wide range of industrial and commercial flooring products that meet all the requirements for high traffic areas. We also provide well-priced commercial flooring services including installation and refinishing.
Our valuable customers come from various market segments, such as: public and government facilities, retail stores, industrial and athletic institutions, other private office spaces. Our commercial flooring installers are fully Certified and Insured.
We service the Greater Vancouver and Fraser Valley areas and will be glad to assist you with any questions regarding commercial floors.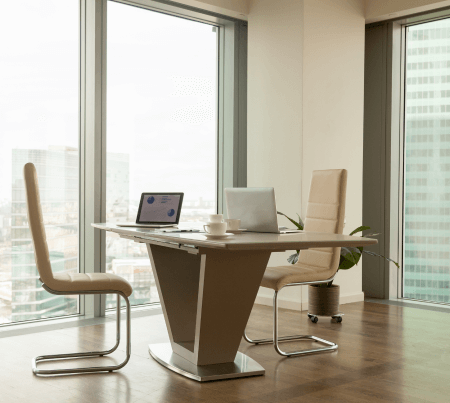 Our quality and consistent workmanship have helped thousands of homeowners
achieve the perfect flooring solution for their homes.
"BC Floors did an excellent job for us replacing our home carpet with a natural acacia laminate. They had a wide selection of options, and provided good advice that helped us choose a high quality product within our budget. The installation was both fast and very well done, and the company was easy to deal with from start to finish.

They have high standards of customer service and quality of work. We have received many comments from friends and family on how good the new floor looks. Thank you for your hard work and wonderful service, which we are already recommending to others!
+ Read More
"Back then I was 7 months pregnant. I called BC Floors and made an appointment. I did not even have to travel anywhere. This really impressed me. They brought the samples, measured everything and within 2 weeks from then I had my new cork flooring, nice and soft."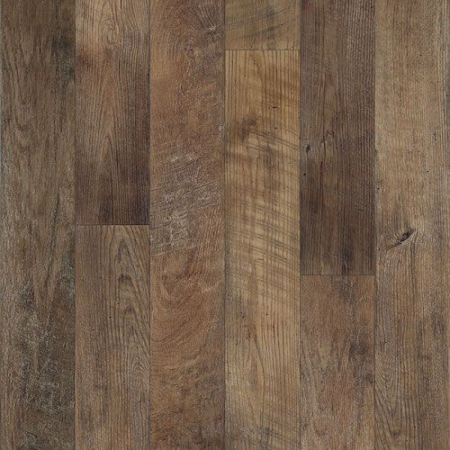 Commercial Vinyl Plank
Flooring
Commercial Luxury Vinyl Tiles (LVT) and Vinyl Plank Flooring (LVP) is the best solution for many businesses that want their floors to have a luxurious look and serve well in high traffic areas. Commercial vinyl planks and tiles are extremely durable and available in a huge variety of styles and textures including wood, stone, concrete, slate and more.
Being made of vinyl, these flooring materials are completely waterproof and highly stain resistant. Moreover, it is very easy to maintain. Vinyl plank and vinyl tile flooring is a popular choice for commercial flooring projects such as offices, hotels, banks, restaurants, shops and supermarkets.
Commercial Sheet Vinyl And Linoleum
We offer a wide selection of resilient sheet flooring products which are suitable for most industrial and commercial flooring projects. There are three main types of sheet vinyl flooring: Inlaid Sheet Flooring, Heterogeneous Sheet Flooring and Homogeneous Sheet Vinyl Flooring.
Linoleum floor is a pretty unique product. Both vinyl and linoleum are resilient types of flooring, but linoleum is manufactured from renewable natural materials which makes it more environmentally friendly.
Vinyl sheet and linoleum flooring installation requires certain level of professionalism. Our installers are trained and experienced in handling all types of installations of commercial resilient flooring.
Vinyl Flooring Brands: Armstrong Vinyl, Forbo Allura Vinyl, Johnsonite, Duchateau, Mannington, Tarkett, Polyflor, Karndean, Shaw vinyl, Impact Vinyl, Creative Options Vinyl and more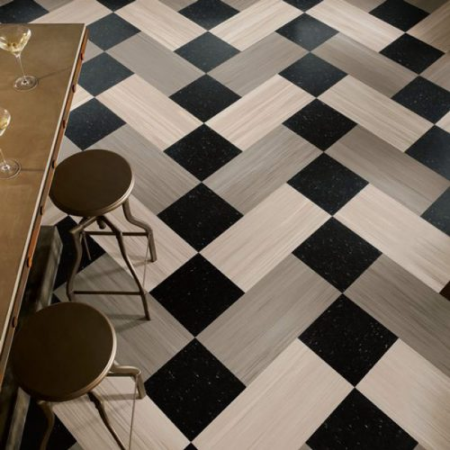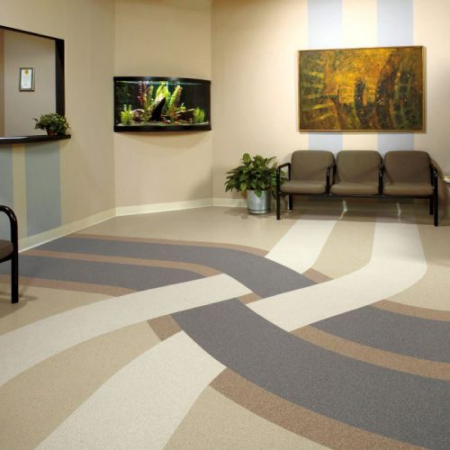 Commercial Flooring Brands (Forbo, Armstrong, Shaw, Etc)
Forbo Flooring is a global manufacturer of high-quality commercial flooring. Marmoleum brand from Forbo is widely known as the best commercial vinyl linoleum, tile and sheet vinyl. Its unique feature is that it is almost 100% made of natural raw materials. And it is anti-static which makes it a number one choice for areas that should be kept maximum dust-free. Marmoleum sheet & tile flooring is a great combination of durability, trusted quality and innovative design with over 300 plus colours to choose from.
Armstrong® is one of the most trusted commercial flooring brands in the world. Vinyl Composition Tile or VCT for commercial projects from Armstrong is well known for its high quality, high performance. No doubts, it is the best combination of quality and value.
BioBased Tile or BBT is an affordable greener option with enhanced performance for any Commercial and Industrial needs. BBT Tiles have higher resistance and cracking impacts comparing to standard composition tiles.
BC FLOORS offers commercial carpet and carpet tiles for commercial spaces. When it comes to commercial carpet flooring, durability is the number one priority.
Commercial carpet is made to take the abuse of high foot traffic. We carry some fairly priced commercial carpets to meet any budget.
Commercial Carpet tiles is another great flooring option for commercial areas which is slowly surpassing regular commercial carpets. It is easy to clean, maintain and, most importantly, to repair. Their heavy duty backing guarantees exceptional durability and longevity. And even if damaged, a carpet tile can be easily replaced with a new one without touching the rest of the floor. Commercial carpet tile flooring can certainly be considered to be the best investment into the business. It is widely used in various public places including office buildings, airports, government facilities, etc.
Carpet Brands: Armstrong, Forbo, Interface Carpet Tile, Kraus, Mohawk, Milliken, Mannington, Godfrey Hirst, Beaulieu, Shaw Carpet Tile, Patcraft Carpet Tiles, Masland, Venture Carpets, Naturelle and more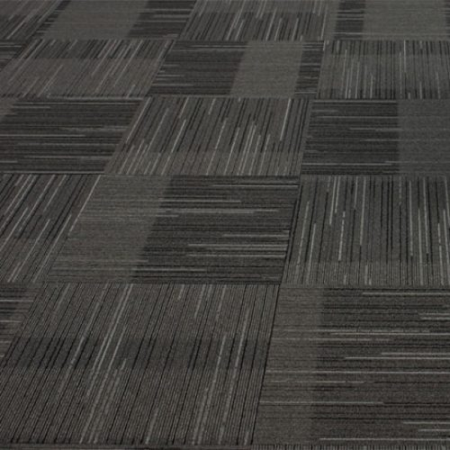 How to Get New Hardwood
Floors for Your Place
Serving Greater Vancouver/ Metro Vancouver areas
Vancouver, Burnaby, Surrey, Delta, Coquitlam, Port Coquitlam, Port Moody, Richmond, North Vancouver, West Vancouver, Maple Ridge, Langley, New Westminster, White Rock, Pitt Meadows, Township of Langley
Serving Greater Vancouver/ Metro Vancouver areas
Vancouver, Burnaby, Surrey, Delta, Coquitlam, Port Coquitlam, Port Moody, Richmond, North Vancouver, West Vancouver, Maple Ridge, Langley, New Westminster, White Rock, Pitt Meadows, Township of Langley
GALLERY OF WORK FOR HAPPY CUSTOMERS
Book a FREE On-Site
Estimation For Your Project