Hardwood Floor Installation
Professional Hardwood Installers
Hardwood Floor Installation By BC Floors®
Parquet & Solid Hardwood flooring is the most classic flooring. It has always been associated with wealth, good taste and chic. It is completely made of hardwood, planks of one piece of timber. Exceptional durability, wear resistance and easy restorability. Due to the thicker solid structure hardwood floor has longer lifetime and can be resurfaced multiple times which can increase its longevity up to 100 years. Solid hardwood flooring is one of the most worthy investments into your home's value. Hardwood flooring is sure to be considered a significant investment into your home and it maintains its value. Wood flooring promises you a much longer life and stability than other types of flooring. This is why the quality of hardwood flooring installation matters! Due to its durable and long-lasting features, solid hardwood flooring can be installed in any room that does not see moisture. Living rooms, bedrooms and home offices are the perfect places for solid wood. Engineered hardwood can be installed above grade, on grade, and below grade. It also can be installed over radiant heat subfloor. There are three methods of hardwood flooring installations – Nail Down, Glue Down and Floating Hardwood Installation (Click)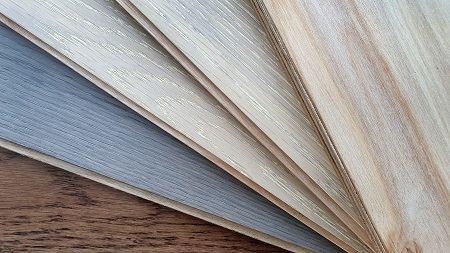 Hardwood Flooring Installation Options: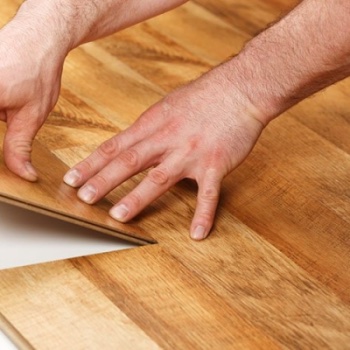 Floating - Click Installation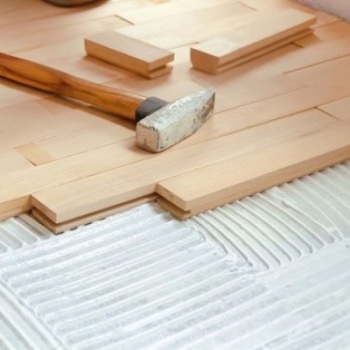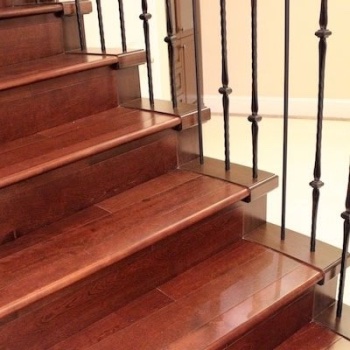 Hardwood Stairs Installation
Our quality and consistent workmanship have helped thousands of homeowners
achieve the perfect flooring solution for their homes.
"We had BC Floors replace the carpet on our stairs with laminate and risers. They did a wonderful job on the work, were very considerate and cheerful while doing the work, and left our house in garage (where they did most of the cutting) nearly as clean as when they arrived. Would definitely recommend to anyone looking for this service."
"Contacted BC floors for a quote to change older tile floors and Keit came to our home to show us multiple samples, take measurements, and provide a detailed quote for the work of removing the existing tile , leveling the floor, and installing a new floor. Keit did an outstanding job of explaining everything involved with our choice of cork floors. The job was started within a week and the installer , Emerson, was fast, meticulous and we were extremely pleased with the look of the completed floor. Superb job!"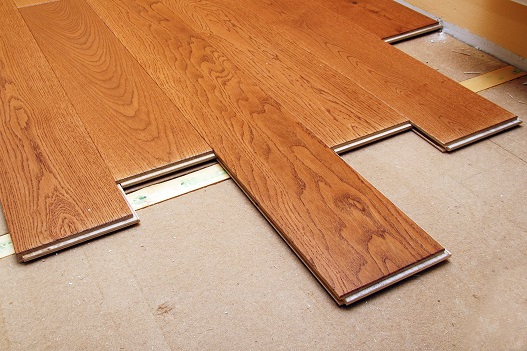 Hardwood Floor Installations of Any Kind
When it comes to hardwood, it is best if it is used in a room which is not exposed to moisture – like your bedrooms, living rooms and offices. It's rich luster and finish makes hardwood always associated with class and it significantly increases the value of your home. BC Floors' experts ensure you have access to the best engineered hardwood flooring materials in Vancouver.
At BC Floors, we care about the customer. We take many precautions and hire the best flooring installers in the area to provide valuable end results. Our team has consistently delivered quality work from project to project in the given deadlines. Our floor installers have had at least 5 years experience in the wood floor installation field, so you know you're in good hands.
We take pride and responsibility in our work. Our services have $5 million coverage in liability. We understand that you may worry about the quality of materials. At BC Floors, we stock only the best flooring materials that have proven their performance time and again. Our workmanship warranty is 1 year plus the manufacturer's warranty for material.
With so many warranties, you know you cannot go wrong with BC Floors. We provide professional flooring installation services in Vancouver. So if you're planning a flooring project, we're the One Stop Shop for flooring materials and flooring installation in Vancouver.
How to Get New
Floors for Your Place
Book a FREE On-Site
Estimation For Your Project
* Free Consultation and Estimate provided Unconditional. No Commitment.