Stair Carpet Installations
#1 Stair Carpet Installation Specialist
The Beauty of Stair Carpet
Stairs are one of the most commonly used places in our homes. For some people, making a decision for carpets on their stairs can be one of the trickiest decisions they can make. The selection of a stair carpet can be somewhat more difficult than the selection of carpets for other areas of the house.
Indeed, you do not only think of imposing your style and class in your home with your choice of stair carpet, but also bother about the durability, thickness and the quality of the stair carpet.
Allow us at BC FLOORS worry about that. We take it upon ourselves to help our clients get the best out of their projects and will not stop until you are pleased. With us, you rest assured that only the best hands are on your job. We have installed stair carpets long enough to know what fits your home, budget, and style.
Hard surfaces are quite slippery, we know that and this can easily cause a fall, so we are determined to install the best carpets to eliminate this risk. Installing a stair carpet is very important because, in the event of a fall, the carpet would provide a softer landing surface than would hardwood or laminate, and this surely helps reduce the risk of an injury.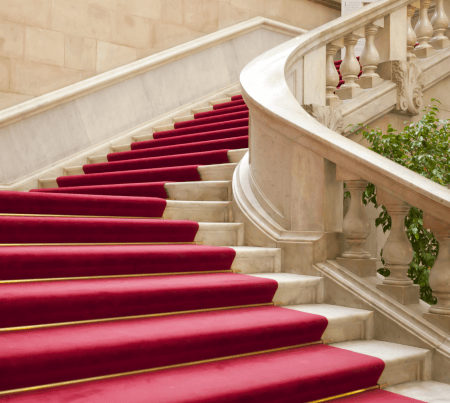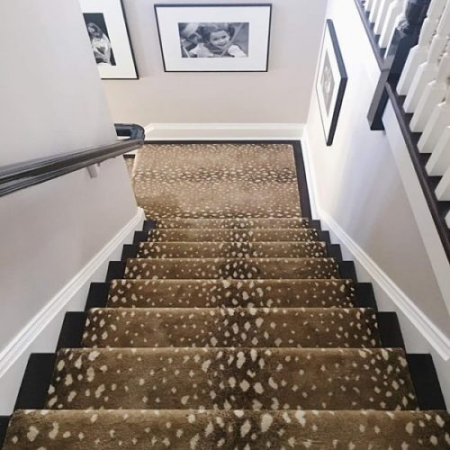 Since we started, we have steadily risen and are now proud to be the # 1 floor carpet runner specialist in Vancouver. The brands are associated with are the biggest and the best, and all the carpet runners we install are manufactured to the highest specifications. Our customers choose a carpet, and a carpet runner is custom made to fit the stairwell.
All the carpets we sell and install are based on a 100% guarantee to be perfect. We put in a lot of hard work to ensure that all of our clients are satisfied with their purchase. We have a high level of commitment to our customers which is fundamental to all we do.
The carpet runners we sell are delivered professionally and ready for use. Our carpet runners are available in whatever length you desire, and as they come in custom length. Our services are fast with a reliable team and the goal is to deliver and install your carpet runner in the shortest possible time after the order is made.
Wall To Wall Stair Carpet
At BC FLOORS, we only provide our clients with the best products and services. We do this by partnering only with the best carpet brands and hiring highly experienced carpet installers. When it comes to a wall to wall stair carpet, we are the best.
With wall to wall stair carpet installation, the carpet fully covers the surface of your stairs, both risers and treads. Our years of experience have made us masters and very knowledgeable in a wall to wall stair carpets.
It's one thing dreaming of your wall to wall carpet installation, it's another thing to get the best hands to install it for you. BC FLOORS team will be happy to assist you.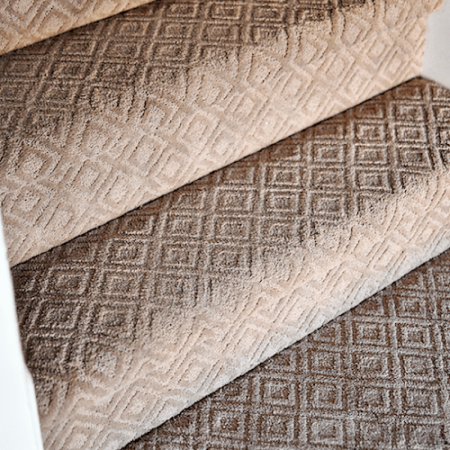 Our quality and consistent workmanship have helped thousands of homeowners
achieve the perfect flooring solution for their homes.
"BC Floors did an excellent job for us replacing our home carpet with a natural acacia laminate. They had a wide selection of options, and provided good advice that helped us choose a high quality product within our budget. The installation was both fast and very well done, and the company was easy to deal with from start to finish.

They have high standards of customer service and quality of work. We have received many comments from friends and family on how good the new floor looks. Thank you for your hard work and wonderful service, which we are already recommending to others!
+ Read More
"Back then I was 7 months pregnant. I called BC Floors and made an appointment. I did not even have to travel anywhere. This really impressed me. They brought the samples, measured everything and within 2 weeks from then I had my new cork flooring, nice and soft."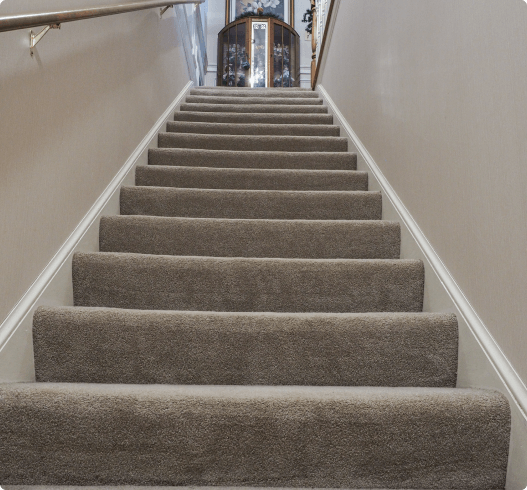 The Most Durable Type of Carpet for Stairs
THE MOST DURABLE TYPE OF CARPET FOR STAIRS
There is no direct answer to the most durable type of carpet for stairs, your taste and desire should decide what you install. However, we'd let you know what most experts recommend. It is recommended you use a low pile carpet which is made of nylon fibers or polyester. Low pile carpets are much better to withstand heavy traffic without showing foot trace.
However, it is topic of debate as to if polyester or nylon fibers are better. Many experts believe both types will work well for your stairs and hallways. They are both durable and also cancels themselves out in several areas of strength and weaknesses. Where one excels, the other may also excel or default a bit. Therefore, both are a matter of choice.
How to Get New Hardwood
Floors for Your Place
Serving All Greater Vancouver, Fraser Valley & Sea to Sky
Vancouver, North Vancouver, West Vancouver, Burnaby, New Westminster, Richmond, Delta, Surrey, White Rock, Coquitlam, Port Coquitlam, Port Moody, Pitt Meadows, Maple Ridge, Langley, Mission, Abbotsford, Aldergrove, Chilliwack, Hope, Squamish, Whistler
Serving All Greater Vancouver, Fraser Valley & Sea to Sky
Vancouver, North Vancouver, West Vancouver, Burnaby, New Westminster, Richmond, Delta, Surrey, White Rock, Coquitlam, Port Coquitlam, Port Moody, Pitt Meadows, Maple Ridge, Langley, Mission, Abbotsford, Aldergrove, Chilliwack, Hope, Squamish, Whistler
GALLERY OF WORK FOR HAPPY CUSTOMERS
Book a FREE On-Site
Estimation For Your Project