Vinyl continues to be a popular choice among synthetic flooring materials, combining durability, and moisture-resistance at a low cost. Like with any other material, however, your vinyl flooring is bound to pick up some stains and marks over the years, even with regular light cleaning.
Have no fear, however, because it isn't challenging to clean vinyl floors. This guide will give you some top tips on floor cleaners, cleaning solutions, strategies to remove stains and everything you need to do to maintain your vinyl floors in top condition.
How to Clean Vinyl Floors?
Cleaning vinyl floors is easy. To start off, here are the supplies you'll need for your regular cleaning:
Dry mop, soft broom or vacuum
Wet mop
Warm water
Vinyl floor cleaner (or liquid dishwashing soap with degreaser)
For stains: vinegar, WD40, rubbing alcohol, baking soda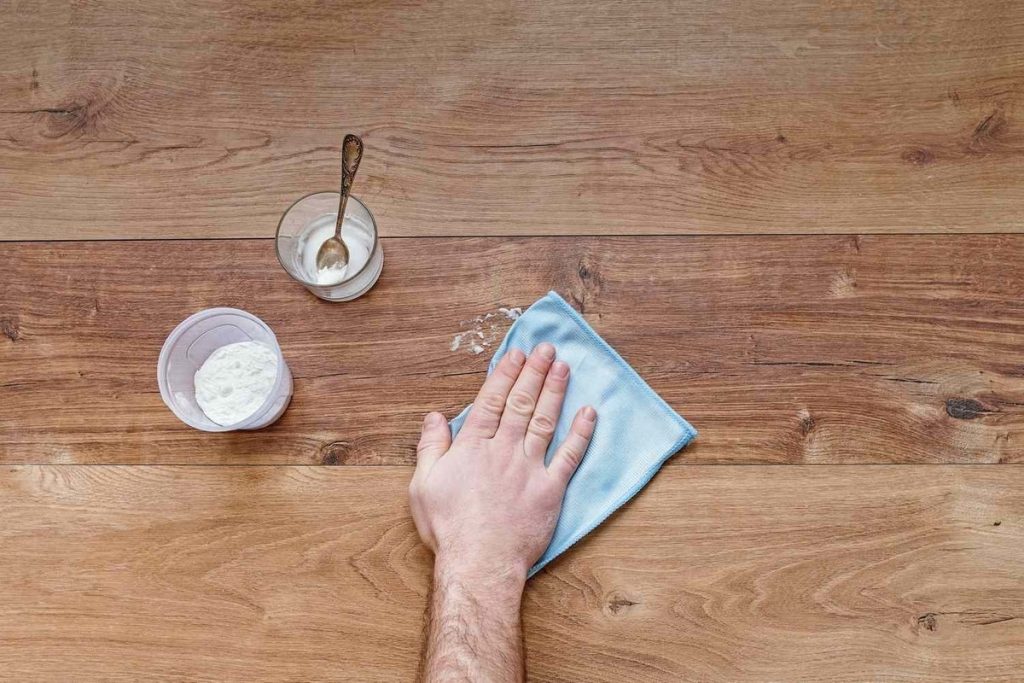 The first step is to remove any loose dirt or debris from your floor. Either a vacuum cleaner or a broom is a good tool for the job, but be sure that whatever you pick is soft and won't scratch or abrade your vinyl.
Once this is done, mop your floor with a solution of warm water and your vinyl cleaner of choice. Make sure you follow whichever instructions come with your cleaner!
If you have some tough stains that don't seem to come off with the mop, don't fret – we'll address that problem in the next section.
Lastly, if you notice your floor is a bit streaky or sticky after cleaning, prepare a solution of water and one cup of plain white vinegar. Rinsing your floor with this mixture will leave it sparkling clean!
As the final step, make sure you leave your vinyl floor to air-dry.
How To Get Rid Of Stains On Vinyl Floor?
Once you start seeing stubborn stains, you know your floor is in serious need of some TLC. Luckily, there are some easy remedies you can use to remove the vast majority of common household stains.
Some stains need different approaches, so we'll catalog the most common nasties you'll be dealing with below:
Food stains

: Tomato sauce, red wine, soda pop, soy sauce… all common sources of stubborn food stains. To remove the residue, a mixture of baking soda and water is a great choice. Use a soft cloth to rub the mixture into the floor and let the baking soda rub off the mess.

Grease or ink stains

: There are many different ways that grease can wind up on your floor – but whatever the case, you want it gone! Alcohol paired with a soft, microfibre cloth is a great choice to dissolve the offending material. A similar approach works well with ink. Watch your cloth carefully while cleaning and make sure you switch to a clean cloth when necessary.

Scuffs

: Shoes, pets at home and moved furniture are all common sources of scuff marks. The ever-reliable WD0-40 is a great way to remove these nuisances – apply a very small amount and buff with a dry microfibre cloth until the scuff is gone.

Makeup, crayons and markers

: Similar to grease stains, using vinegar or alcohol is your best bet to remove these.
Remember, prevention is always the best cure, and it's best to act immediately when stains are easier to clean and less stubborn.
Care Tips For Vinyl Flooring
Now that you know how to get your vinyl flooring clean, here are some tips to help you keep it in top shape:
Don't use harsh or overpowered cleaners. Always make sure that whichever product you're using is approved for use with vinyl floors. Bleach and other harsh cleaning products can damage your floors.
Don't use bristly or abrasive brushes or brooms. Avoid steel wool and other materials that can scratch up your floor.
Remove dirt regularly, as it can scratch your floor underfoot.
Always take care when moving furniture not to scratch your floor. Always use pads or mats under the legs of your furniture to protect your elegant vinyl floors.
Avoid having high heeled shoes or pet claws trafficking over your floor.
Summary
Vinyl flooring has been a popular choice for decades. With the right care, this durable material can be a feature of your home for years to come. If you do stain or scuff your floor – don't fret! Most blemishes can be removed using the techniques we've detailed above.
If you're considering replacing your vinyl flooring, don't hesitate to get in touch with our professionals for a quote.