Hardwood is probably one of the oldest flooring materials around (after stone). Not only does hardwood bring a warm, classy look to any space, but it's also incredibly durable, with longevity that lets it last decades or even longer. The ability to recoat and refinish your damaged hardwood floors also gives you flexibility and the ability to remove many forms of damage such as scratches and scuffs.
When designing a cozy, welcoming space, hardwood would seem to be a great choice for flooring in the kitchen. Not only does it lend the room a classic charm, but it should also be resilient enough to stand up to the traffic and wear. Right or wrong?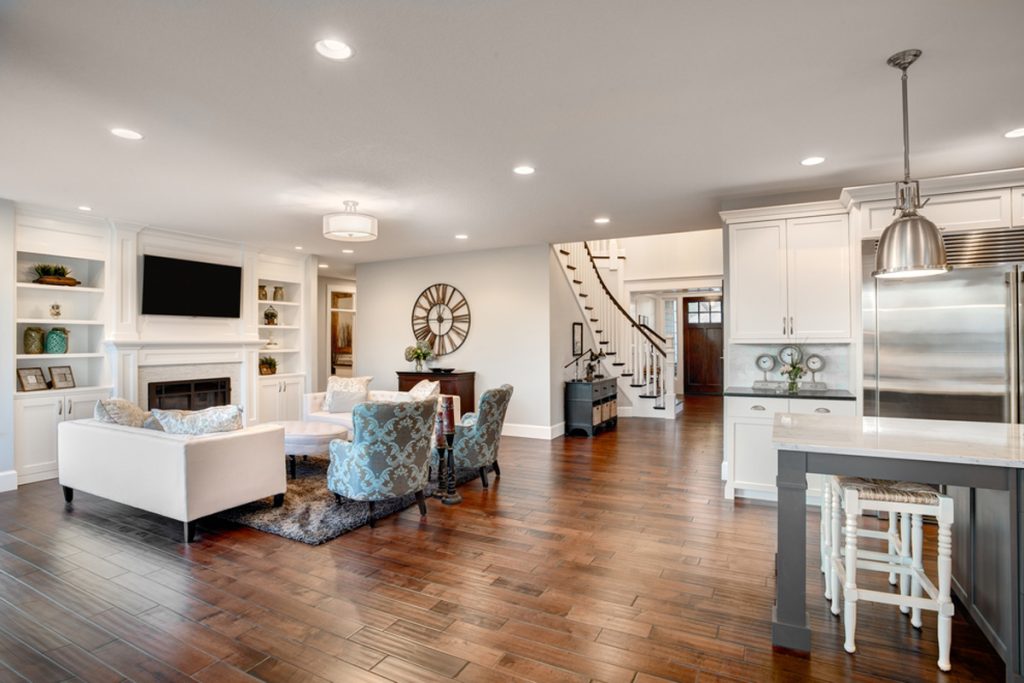 The fact is, hardwood has a weak point for all its durability – moisture. Superficially, moisture can cause staining and spotting in your wood. Deeper moisture penetrating can be very dangerous to your floors, leading them to warp or even buckle! In particularly bad cases, this can force you to replace the entire floor – an expensive proposition. Hardwood is far from water resistant.
The poor resistance of hardwood to moisture means that is not a very popular choice for kitchens, giving way to alternatives like stone, tiles, linoleum or vinyl. However, with the right options and care, hardwood can be a great addition to your kitchen.
Let's dive into some of the pros and cons of this use of the material.
Advantages of Hardwood Floors in Kitchen
Hardwood flooring in your kitchen shares all the charm the material has in other rooms.
Here are some great advantages of hardwood floors in your kitchen:
Cozy Effect

: Different hardwood floor types have a unique ability to create a natural, homey feeling that can be a great fit for your kitchen. Particularly if you do a lot of dining and entertaining in your kitchen, this can be a great asset when trying to create a certain feel

Consistent Look

: If you're a fan of hardwood and have used it elsewhere in your house, a hardwood floor in your kitchen makes for a clean, consistent appearance. Especially if your home is open concept and the kitchen is integrated into the rest of the floor, this can be a great choice if you have hardwood floors elsewhere. It can also be a great way to match other kitchen furnishings, like cabinets.

Longevity

: Provided you keep your floors properly maintained and protect them from spills and other damage, you'll be rewarded with an incredibly durable and long-lived floor, lasting decades or even longer.

Softer

: Hardwood is actually a relatively soft material; softer than many alternative kitchen flooring products such as stone. This can be a great advantage for serious cooks who spend a lot of time in the kitchen.
Disadvantages of Hardwood Floors in Kitchen
As you can see, there are many advantages that could lead to someone opting for hardwood floors in their kitchen. Now, let's move on to some of the challenges that come with this type of material.
Moisture Vulnerability

: As we've already mentioned, hardwood is very vulnerable to moisture. With a hardwood floor in your kitchen, you'll need to be on guard and wipe up any spills immediately. Speaking of spills – the texture of the wood means that any food or drink spills can penetrate deeper than with other materials. Time is of the essence!

Heat Vulnerability

: Hardwood is also affected by changes in heat – expanding and contracting. You'll need to consider this factor, along with the design of your kitchen and house, when deciding whether or not to opt for wood in this room.

Wear and Tear

: While hardwood is very durable, it's far from immune to wear and tear. The constant traffic that comes with a kitchen will leave its mark overtime, and even the most careful cook will probably begin accumulating dents and scrapes. These can be fixed with refinishing, but keep in mind that a floor can only be refinished a certain number of times.
What To Consider Before Choosing Hardwood
After laying out all of the pros and cons, here are some final things to think about if you're considering hardwood in your kitchen.
One of them is cost. Hardwood is not one of the cheapest materials out there, and you'll need to factor this into your budget for your kitchen – which is often one of the more expensive rooms.
If cost is an issue, you can look into the type of wood that you want to install.
Solid hardwood flooring is just what it sounds like – planks of the hardwood lumber of your choice. Everything we discussed above applies to solid wood flooring, including cost. This is a serious investment in your home that you should be able to maintain for decades to come.
Engineered hardwood is a good alternative to hardwood lumber. It's composed of a plywood core board with a thin layer of hardwood on top. This makes for a much cheaper product that is also softer underfoot than normal hardwood. Additionally, as the plywood core is very stable, engineered hardwood is less susceptible to variations in size due to humidity and temperature – meaning that you can use wide planks of engineered hardwood more safely. The catch? Engineered woods can only be refinished once or twice at most, compared with ten to twelve times for solid hardwood.
Summary
We hope this short guide has cleared up some of the confusion around using hardwood in your kitchen. While there are definitely risks to using the material, there are also great rewards for those intrepid enough to extend their hardwood floors into the kitchen.
Contact us to get more information and find out how we can be of help.