With Vinyl Flooring, You Don't Have To Worry About Staining Or Wearing
Luxury Vinyl Plank Flooring is an ideal background for dynamic and busy households, and even commercial locations. If you are leading busy life style also full time working professional, the last thing you need is to worry about your flooring, when you come home in Vancouver. In such case, Armstrong Vinyl flooring would supply your home with a lovely design that gives real wood or the ceramic tiles look, minus the problems that natural materials bring along. The Armstrong floor core offers more comfortable feel underfoot, which is great when you are on your feet all day in the kitchen. If you have children, you don't have to worry about them getting ill due to hard cold flooring. Luxury Vinyl Plank flooring could also be more comfortable than the natural materials, for the knees and hands.
In addition, luxury vinyl is a winner in low-maintenance category; with strong protective anti-wear layer, that is a lifesaver. For household residents spill the liquids on a daily basis, and as a homeowner one doesn't have to get anxious about staining and a time consuming hygienic errands. It is as easy to clean any kind of mess made, as to simply wipe the vinyl with a paper and it is done, the wear layer keeping the stains away.
We sell and install all types of luxury vinyl plank flooring, there is a large selection of design choices such as sheet, planks, tile, luxury vinyl tile, luxury vinyl plank, while and the most important factors when choosing right flooring according to your interior accessories is the softness underfoot desired and stain resistance for long durability.
Luxury Vinyl Plank Flooring LVP & Luxury Vinyl Tile LVT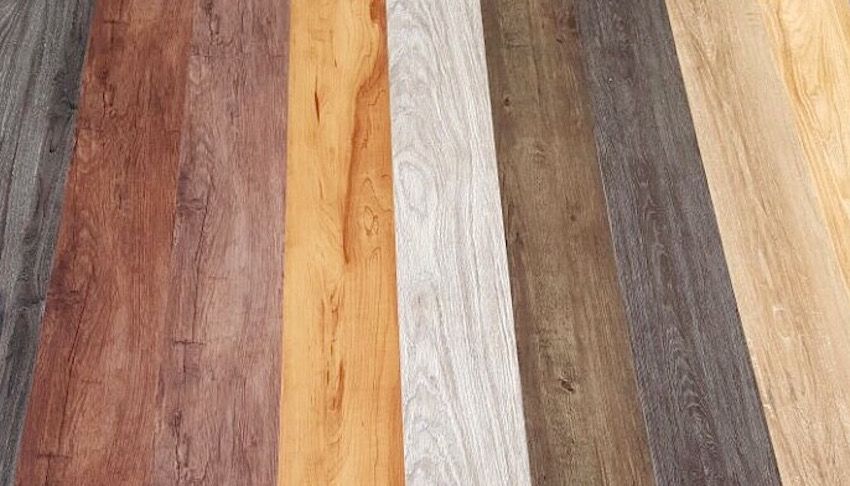 Luxury vinyl plank flooring (LVP) that looks like it has been made out of wooden planks, following all details there are, from colour to species. The surface feels and includes the scratches or embossing look, which increases the realistic dimension. As for positioning, vinyl plank flooring may be installed in various ways—in brick fashion, diagonally, and so on. Installing luxury vinyl planks is a very easy process.
Luxury Vinyl Tile (LVT) is stone or ceramic looking tile, finished with attractive natural colours and exterior texture that feels like the real stone or ceramic. Or if it is to your liking, you can choose certain styles that are even installed with mortar, thus making it even more realistic.
BC FLOORS® is most trusted and reviewed supplier of Luxury Vinyl Plank Flooring in Vancouver