Wall to wall carpeting is one of the most popular flooring choices for many homes. Not only does it look great, but a fully carpeted floor absorbs noise, softens footfalls and also insulates your home from the cold – many carpets are great at retaining heat.
This goes double for carpet on stairs. Especially in a busy home, carpet for your stairs will muffle the sound of traffic up and down the stairs, and will provide padding in the event of a fall – great for children and the elderly.
Many carpets are a fantastic choice for those with allergy issues, as the material will sequester dirt and allergens from the air. Over time, however, this becomes a problem – your carpet gradually traps more and more dirt, dust and pet hair. Sooner or later, you're going to need to clean your carpeted stairs.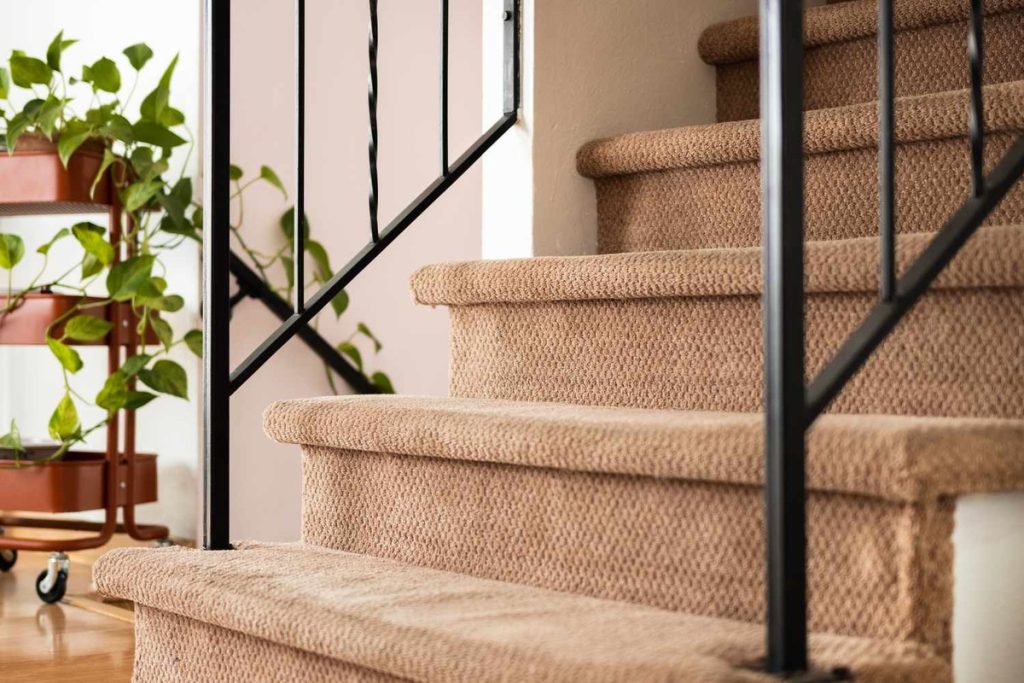 When Your Carpets Need Cleaning
It's usually easy to notice when your carpet needs cleaning. The colour starts to become faded, stains become obvious, and the dirt and dust begins to build up. As a rule of thumb, your carpet should be cleaned every 12 to 18 months. If you've noticed that your carpet isn't looking as clean as before, it's time to clean the carpet on your stairs!
Cleaning carpets on stairs can seem like an involved job, but it isn't too hard. Let's discuss some of the ways you can clean your carpet – and if you should hire a pro.
Prevention And Maintenance
Before we start to talk about carpet cleaning strategies, we should discuss prevention. As always, it's easiest to solve a problem before it starts!
To keep your need for deep carpet cleaning to a minimum, it's good to brush or vacuum regularly. This will slow the build-up of dirt and stains that eventually requires deep cleaning. You can use a stiff broom and sweep your stairs from top-to-bottom once or twice a week. Using a vacuum cleaner, particularly one designed for carpet cleaning, is also a great idea. This will keep your carpets looking great for as long as possible.
However, it's inevitable that eventually your carpeted floors will accumulate some deeper soiling or stains that will require deep cleaning.
Best Ways To Clean Carpet On Stairs
If you've decided to clean the carpet on your stairs, there are a few different ways to do it.
The easiest and most efficient solutions involve using machines to clean your carpet. However, there are also some manual solutions that you can try – they're cheaper, but more time and labor intensive.
If your carpet isn't too dirty, a powerful vacuum cleaner with a carpet attachment is a great way to get rid of more stubborn dirt and grime. That being said, eventually some kind of deep cleaning will be required, so let's look at the different options.
The best way to truly clean your carpet is with a steam cleaner or other deep carpet cleaning tool. These can usually be found for sale or rent at hardware stores or other outlets. Steam cleaning will return your carpet to a "like new" state, wiping out stains and giving the fibers of your carpet a deep clean. In comparison to the other manual cleaning methods, steam cleaners are not only faster but also leave your carpet dryer – meaning you won't have to wait as long before it is back to normal. Another advantage of a steam cleaner when you want to clean the carpet on your stairs is that it will destroy any dust mite infestations and prevent any mold or bacterial growth. This means that regular steam cleaning is a must for anyone with allergies.
Your carpet can also be cleaned manually. To do this, you'll need a scrubbing brush, and carpet shampoo, detergent, or white vinegar. Manually cleaning your carpet is time consuming, but it's cheaper than renting a machine or hiring a pro, and in most cases you can achieve a very good result.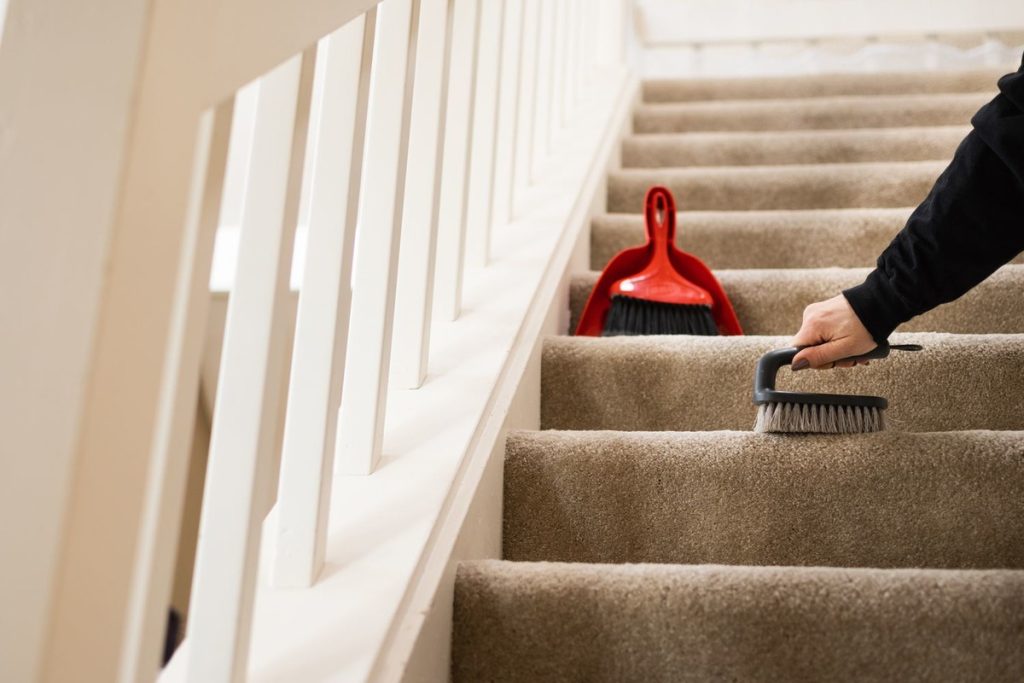 How To Clean Carpeted Stairs Without Machines
If you want to clean the carpet on stairs by hand, we'll present a short but complete guide below that will let you do just that.
First, we'll list everything you need:
Stiff Broom
Vacuum cleaner (optional)
Scrubbing Brush
Carpet Shampoo or white vinegar or detergent
Once you have all of these supplies, you can get started.
First, you'll need to give each stair a firm brushing from top to bottom with a stiff broom. This will remove all of the obvious dirt and debris from the carpet fibers. Once you've done this, it's a great idea to go over your stairs with a vacuum, to catch anything you might have missed with your broom and dust pan.
Next, begin applying your cleaning product of choice with water and a stiff brush. If you're using a store-bought product, make sure you follow the instructions for use to get the best effects. If you don't want to use a store-bought product, a solution of white vinegar and water can be a great way to clean and deodorize your carpet.
Proceed step by step, scrubbing your cleaner deep into your carpet in a circular motion. As always, work top to bottom to avoid jeopardizing your earlier work. If you encounter areas that are heavily stained or soiled, you'll need to work on them until the stains disappear. Get scrubbing and apply some elbow grease!
Once you've scrubbed every step clean, you'll need to move on to a very important stage- drying.
Scrubbing your carpet by hand always leaves a lot of moisture present in the material, and it's important that you remove as much as possible to avoid developing mildew, mold or other issues. When you've finished cleaning, either use towels to soak up the excess water, or use a special vacuum cleaner designed to suck up moisture. Go over every stair and make sure you haven't left any wet patches. Once this is done, you'll need to let your stairs dry for 14-24 hours until you can walk on them again. The final step is to do a last vacuum to grab any dirt that you dislodged during your scrub.
Why To Call A Pro
It's worth mentioning that sometimes the best solution is to call a pro, especially if you have a lot of carpeted stairs in your home or if they're heavily soiled. Professionals have access to more powerful machines than you do, and they've performed the cleaning process hundreds of times or more. They will also leave your carpets dryer, faster. If time is more important to you than money, going with a pro is a great choice.
Summary
If you've been wanting to clean the carpets on your hardwood stairs but haven't known where to start, we hope this post has started you off on the right foot. Whether you want to clean stairs manually or use a machine, you should be ready to get started!