Choosing the right flooring for your home is a substantial decision that extends beyond mere visual appeal. It's a long-term investment that can impact not only the comfort and aesthetics of your living area but also its resale value. Canadian hardwood flooring is a premium option that embodies an unmatched combination of durability, beauty, and long-term financial advantages. In this comprehensive guide, we'll examine each benefit of opting for Canadian hardwood flooring, supporting our points with insights from experts like BC FLOORS, a trusted name in quality flooring solutions.
The Comprehensive Appeal of Canadian Hardwood Flooring
Durability and Quality
When you're investing in flooring, durability and quality are crucial elements to consider. According to the experts at BC FLOORS, Canadian hardwood flooring, including popular types like oak and maple, fares exceptionally well on the Janka Hardness Scale. For instance, Canadian oak has a Janka rating of 1450, while Canadian maple scores even higher with a 1500 rating. Such elevated numbers indicate that these kinds of wood are robust enough to withstand areas with high foot traffic, thus extending their lifespan and ensuring you receive value for your investment. Additionally, the natural characteristics of Canadian hardwood—sourced from sustainably managed forests—make it less prone to damage, heightening its quality.
Commitment to Sustainability
In today's world, where environmental awareness is not merely an option but a requirement, Canadian hardwood flooring offers an ideal mix of beauty and responsibility. The forests from which this wood is harvested comply with stringent environmental guidelines that focus on sustainability. This dedication to responsible forestry practices means that when you choose Canadian hardwood flooring, you're making a positive contribution to global sustainability initiatives, rendering it an environmentally responsible choice for your home.
Design Versatility
Canadian hardwood flooring is available in a wide array of styles, shades, and finishes, making it a versatile option for various home aesthetics. Whether you're seeking to complement a traditional, rustic interior or aiming for a sleek, contemporary look, you'll find choices that meet your requirements. From light natural shades to medium classic tones to dark modern hues, there is something for everyone, offering endless opportunities for customization.
Types of Canadian Hardwood Flooring
Canada is indeed a land abundant with forests. Forests and other wooded lands cover approximately 41% of its entire territory, equating to 10% of the world's forest resources. The diversity is remarkable as well. About 180 different tree species call the rainforests of British Columbia, the boreal forests of eastern Canada, and the wooded regions of the Arctic home. Each forest area yields different types of hardwood flooring, but Canadian solid and engineered hardwood flooring is highly regarded on the international flooring market for its superior quality and impeccable natural characteristics.
Solid Wood Flooring
Solid wood flooring, as the name suggests, is made from single, solid pieces of hardwood. This type of flooring is synonymous with authenticity, offering a rich, natural appearance and texture that can add immeasurable allure to your home. One of its most significant advantages is the ability to be sanded and refinished multiple times throughout its lifespan. This grants homeowners the flexibility to rejuvenate their floors periodically, thereby extending their years of use and maintaining their original appeal.
Engineered Hardwood Flooring
If you're looking for the aesthetic richness of genuine wood coupled with enhanced stability, engineered hardwood flooring is your solution. This type of flooring comprises a top layer of authentic hardwood that is adhered to multiple underlying layers of high-quality plywood. This multi-layered composition offers superior stability, rendering engineered hardwood less prone to warping due to temperature and humidity variances, thus making it particularly well-suited for basements and areas with in-floor heating systems.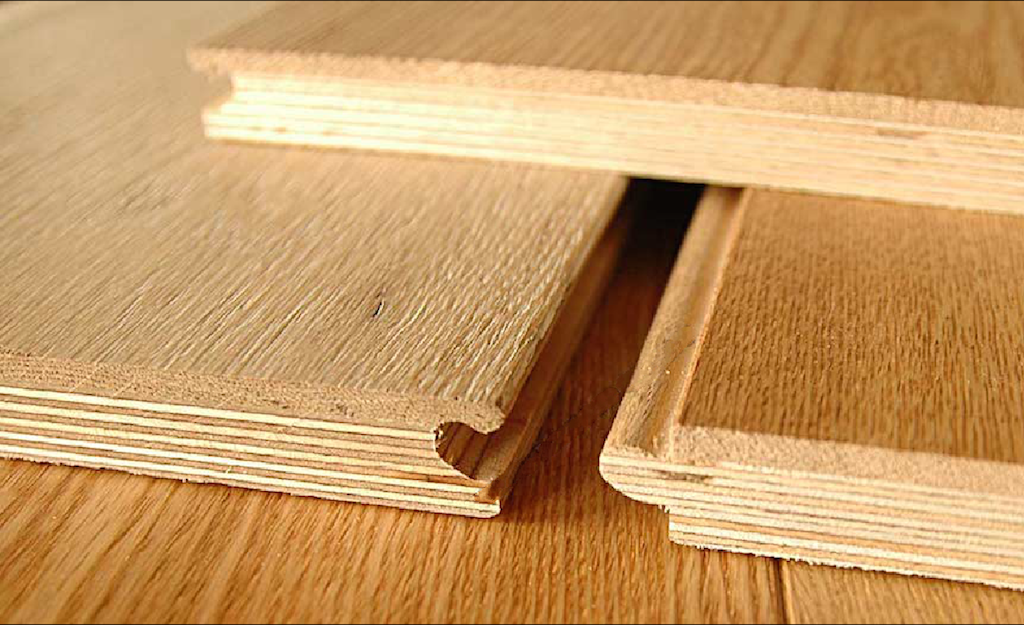 Best Canadian Hardwood Flooring Available In Vancouver
We sell and supply all types and brands of quality hardwood flooring, such as solid single-layer or engineered hardwood, in Vancouver. Hardwood Flooring offers premium packages to both homeowners and building tradespeople alike, at very reasonable prices. Whether one is contemplating a revamp, renovation, or new interior design creation, we have customizable services to meet the most demanding customers' and contractors' needs. All types and brands of Hardwood Flooring in Vancouver that we offer come with a quality guarantee and are certified under ISO 9001 – Quality Management System. We carry materials manufactured in Asia, Europe, and North America, including Canadian engineered hardwood flooring. There is an excellent corporate team on standby, trained to satisfy and serve every customer's needs.
Initial Investment Versus Longevity
While Canadian hardwood flooring comes with a higher initial cost compared to other flooring alternatives like laminate or vinyl, it's crucial to see this as an investment in high-quality hardwood flooring. These floors have a long lifespan, often enduring for several decades if adequately maintained. According to BC FLOORS, Canadian hardwood floors can typically be refinished up to 3–4 times, which further lengthens their functional life and enhances their long-term value proposition.
Boosting Resale Value
Investing in Canadian hardwood flooring is not merely about immediate gratification. There's a longer-term financial advantage as well: a potential boost in your home's resale value. Quality flooring like Canadian hardwood is typically a significant selling point for prospective homebuyers. Many buyers regard hardwood floors as a hallmark of quality and are willing to pay a premium for homes that feature them, making your investment a savvy financial decision even in the long run.
Maintenance and Care Tips
Maintaining Canadian hardwood flooring is relatively straightforward. Regular cleaning, which includes sweeping or vacuuming, generally suffices for day-to-day care. When it comes to deep cleaning or dealing with minor damages, the refinishing option is useful. You can choose between a full or partial refinish, depending on the extent of wear or damage. Furthermore, if a plank incurs severe damage, individual replacement is usually feasible, sparing you the expense and hassle of replacing the entire flooring.
Leading manufacturers of hardwood flooring in Canada
Lauzon is one of the leading manufacturers of hardwood flooring in Canada. The company was founded in 1985 and is based in Quebec, Canada. It has a reputation of a very reliable partner in the international marketplace. Major export directions are Asia, Europe, and United States.
Preverco is a manufacturing company based in Quebec, Canada. The company was established in 1988 and specializes in refinished hardwood flooring. It has been exporting its products in many countries, including Italy, United Kingdom, Russia, United Arab Emirates, United States and others. BC FLOORS Wood Flooring Department supplies and installs Lauzon, Preverco, Appalachian & Mirage Hardwoods.
Conclusion
Opting for Canadian hardwood flooring is not merely an aesthetic enhancement; it's a long-term investment in your home's worth and your lifestyle. With outstanding durability, environmental sustainability, and aesthetic versatility, Canadian hardwood flooring is unquestionably a wise selection for the discerning homeowner. Paired with the possibility to increase your home's resale value and relatively low upkeep requirements, Canadian hardwood flooring proves itself as not just a luxurious option, but a sensible one as well.