Cork Flooring & Cork Flooring Tiles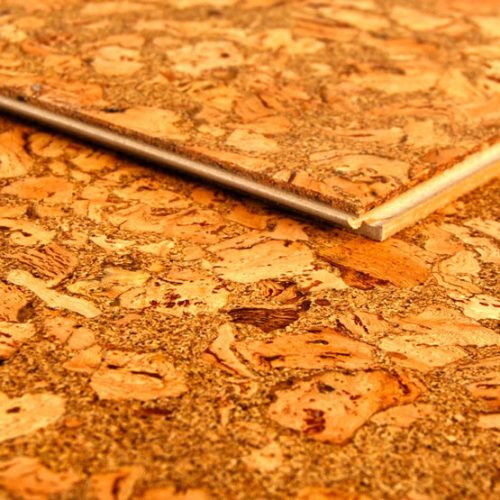 Cork tile flooring is made of the bark of the cork tree and has a very unique cellular structure. It consists of millions of air cells which define most of its distinguishing features.
MAIN ADVANTAGES OF CORK FLOORING
Soft feeling and resilience. Air cells make cork flooring soft and resilient at the same time. Whenever any pressure occurs, cork flooring gets compressed and then takes its shape back. You do not have to worry about light dents, your cork flooring will remember its original condition and get back to it.
Thermal and Acoustical insulation. Again, air cells allow cork flooring to keep the warmth even during cold winter days and provide sound insulation (it basically eliminates echoing and footstep noise). Moisture resistant quality. A natural waxy material contained in cork (Suberian) gives cork flooring this very practical quality. Moreover, it prevents your flooring from moulding and protects from various insects (bugs, mites and termites). Eco friendly. Trees are not used for manufacturing cork flooring, their bark only, which is harvested by hand. As a result, trees themselves are unaffected by the process.
WHAT PREMISES IS CORK FLOORING GOOD FOR?
It is quite a common choice for kitchens and a great choice for entertainment rooms including music rooms or even recording studios. Cork Flooring installation requires certain level of expertise from an installer. You can trust your floors to our experience and professionalism. Cork flooring should be installed over dry and clean subfloors. Other than that it can be installed over various subfloors including concrete, tile and wooden. There are two methods of Cork flooring installations – Click or Glue-together method
OUR TESTIMONIALS
Flooring Installation Services

5

/

5

stars

They did an excellent job for us replacing our home carpet with a natural acacia laminate. They had a wide selection of options, and provided good advice that helped us choose a high quality product within our budget. The installation was both fast and very well done, and the company was easy to deal with from start to finish. They have high standards of customer service and quality of work. We have received many comments from friends and family on how good the new floor looks. Thank you for your hard work and wonderful service, which we are already recommending to others!
Homeowner